Wild vs. organically cultivated Ganoderma: Safety is key
Categories:

Media Center

Time of issue:

2023-09-07 09:06

Views:
(Summary description)
Wild vs. organically cultivated Ganoderma: Safety is key
(Summary description)
Categories:

Media Center

Time of issue:

2023-09-07 09:06

Views:
In order to isolate wild strains and breed better varieties of Ganoderma, as well as to reserve germplasm resources for future breeding, members of Ganoherb Ganoderma base department went to the Wuyi Mountains a few days ago to search for wild Ganoderma.
Our team dedicated over five hours to the task, yet we only managed to locate three specimens of wild Ganoderma. These included two instances of Ganoderma lucidum and one of Ganoderma sinense. This experience underscores the rarity and precious value of wild Ganoderma. However, it's worth noting that the quality of these three wild Ganoderma specimens did not meet our expectations.
The first discovered Ganoderma lucidum: It has just started to sprout.
The second discovered Ganoderma lucidum: It is in the stage of opening its cap, not yet mature, but has already been eaten by insects in several places.
The only discovered Ganoderma sinense: Its shape is relatively perfect, but it has not yet matured and its medicinal effects have not reached their optimal period. At the same time, several small Ganoderma sinense beside it have already been eaten by insects and turned into empty shells.
Evidently, it is challenging for wild Ganoderma to flourish. Although the term "wild" often implies "natural and free from pollution," this is not always the case. The growth process of Ganoderma involves several stages, including spores, mycelium, fruiting body, and spore release.
In order to successfully complete this process, various acquired conditions such as temperature, humidity, light, ventilation, and nutrients must be coordinated. Otherwise, Ganoderma will not grow well. In addition, it is necessary to avoid pest infestation, weed mould infection, and heavy metal pollution to ensure the safety of Ganoderma for consumption.
Wild Ganoderma typically thrives in pristine forests. The soil in these forests, enriched with mineral nutrients and trace elements through years of accumulation, contains various types of heavy metals in certain regions.
During the growth process of wild Ganoderma, its mycelium not only degrades and absorbs nutrients such as lignin, cellulose and hemicellulose but also fully absorbs rich mineral nutrients and trace elements. As a result, it also enriches various heavy metals in the soil.
Without professional testing, it is difficult to judge whether the heavy metal content of wild Ganoderma exceeds the standard. Furthermore, various factors such as insect bites, mold, decay, and fungal parasitism lead to an excess of fungal toxins, making it difficult to guarantee the quality of wild Ganoderma.
Professor Lin Zhibin of Peking University Health Science Center once said, "Just-matured Ganoderma is the best raw material for medicine or health products, as it contains the essence of the whole Ganoderma".
Most wild Ganoderma is picked as soon as it is discovered. Since it cannot be harvested at the optimal time, its efficacy and quality cannot be guaranteed.
In reality, many wild Ganoderma are still immature when discovered, and their active ingredients have not fully accumulated. Some, after releasing their spores, become dry, lignified, and fibrous, resulting in a significant loss of active ingredients and diminishing their medicinal value.
Imitating wild organic cultivation involves artificially standardized organic cultivation that closely mimics the natural environment required for the growth of Ganoderma. This approach can significantly reduce issues encountered by Ganoderma in the natural environment, such as pests, heavy metal pollution, fungal contamination, and suboptimal harvest timing.
GanoHerb has been imitating wild organic cultivation of Ganoderma on the selected plots that have been abandoned for more than 3 years with "three parts sun and seven parts shade" through processes such as natural purification and manual removal of weed mould.
Manual weeding and pest control, regular monitoring of temperature, humidity, light, and ventilation, strict observance of the GLOBALG.A.P., full-process quality control, and testing of agricultural residues, heavy metals, bacterial toxins and active ingredients ensure that consumers can safely consume Ganoderma products with better efficacy and higher quality.
GanoHerb Organic Ganoderma Lucidum
In general, the difference between wild and wild-simulated Ganoderma is not as simple as the difference in taste, aroma, and nutritional content between free-range and feed eggs. The biggest difference lies in safety. When it comes to health preservation, it is important to first ensure that the food is safe to eat, and then to seek its effectiveness. Therefore, wild Ganoderma must be carefully selected.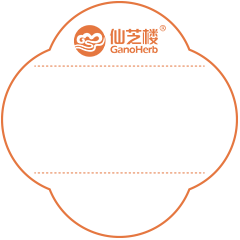 GanoHerb Group
Headquarters Address: Building 9, Phase 1, Innovation Park, Haixi Park, Fuzhou High-tech Zone, Fuzhou City, Fujian Province, China
Healthline:

400-8899-773

Hotline:

18105908051